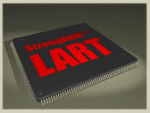 ---
The LART Pages
---
What is the LART?
From the FAQ:
The LART is a small yet powerful embedded computer capable of running Linux. Its performance is around 250 MIPS while consuming less than 1 Watt of power. In a standard configuration it holds 32MB DRAM and 4MB Flash ROM, which is sufficient for a Linux kernel and a sizeable ramdisk image.
Latest 10 news items
Production run has landed!
At long last, the production run of LARTs is in! We have about 100 excess LARTs for sale. Go to the gallery to see them in all their glory.

So what do you get?

- a LART rev5, with blob, kernel and ramdisk loaded
- a KSB rev4, with programmed CPLDs
- an Ethernet dongle, connecting to the KSB
- a serial cable, one end connecting to the LART, the other end to two DB-9s
- a parallel port JTAG dongle for the LART

That's it. No software (get it from the website), no docs, probably not even an Ethernet address ('borrow' an address from a broken ISA card, that's what we do).

I believe most people won't reprogram the KSB CPLDs, so no CPLD download cable either. The KSB uses the standard Lattice pinout, so that shouldn't be too much of a problem.

The kit will cost 230 UK Pounds, plus tax (for those in the EU) and shipping. Payment can be made by various means, including PayPal, wire transfer and checks. Please contact sales@remote12.com for orders and payment details.

IMPORTANT NOTES: READ CAREFULLY

All LART kits are sold as-is. We test if the board will boot to a login: prompt, but that is all. No refunds, no exchanges, no warranty.

The Ethernet interface is not tested yet. I will do this when I get better (hopefully after the weekend). I have no reason to expect it will not work (it is the same circuitry as on the external Ethernet board), I have simply not been able to test it yet. If you really positively need Ethernet, wait until after the weekend before placing your order.

Do not badger the fine folks at Remote12 too much. They handle the sales as a favor to Delft University as we ourselves are not set up to do sales at all.

Keep in mind that we have only these 100 LARTs; they are sold on a first come first served basis. We will not be doing another run once these are finished.
Status of the production run
I have received the first panel (of 10 LART/KSB each) of the LART production run. The LARTs I tested work just fine, the KSB test is planned for the end of this week. If all is well the rest of the panels will be built shortly (ie when the assembly people have a free slot).
I expect a LART+KSB combo to be about 300$US, ex shipping/tax. THIS IS A PRELIMINARY FIGURE; it may change as I will not know the bottom line until all bills are in. I am working on an universal programming dongle (both for the LART flash and the KSB CPLDs), this (and a serial cable) may increase the cost too.
Stay tuned, we are working on pesky details like payment/shipping options.
LART production run
TU Delft is working with a commercial party to produce a run of LART boards. We (TUD) need less boards for ourselves than is viable for automated assembly, so the overproduction will be up for sale. Expect very reasonable prices.
The production will include the new Revision 5 LART, which has processor voltage scaling through an on-board DAC, thus offering extremely low power consumption. Attached to this is the Rev4 KSB, which has its stereo audio DAC replaced by an Ethernet chip. Mono audio I/O is still available through the on-board UCB1300; all signals to add an external stereo CODEC are exported over pin headers.
The board run is expected to be executed in September; watch this space (and the LART-list) for details on price and availability.
LART-related projects gallery
By now, the LART has several siblings. Some of them are listed on the links page; others were in need of a home on the Web. We have opened a projects gallery where people can show their work.
lartload download utility v0.2
Richard Green just sent in a new version of his lartload program. Changes are listed.
lartload download utility
Apparently many people would like to see the process of downloading and flashing the bootloader, kernel or ramdisk automated. lartload solves all your problems -- well, almost.
Precompiled 2.4.17-rmk3 kernel available
Upon popular request, we have put a new precompiled kernel online. Get it at the Linux port page.
Blob-2.0.5-pre2 development snapshot released
Blob-2.0.5-pre2, a development snapshot of blob, has been released. Get it from the blob pages.
Blob-2.0.5-pre1 development snapshot released
Blob-2.0.5-pre1, a development snapshot of blob, has been released. Because of its greater portability this version is very nice if you want to port blob to a new architecture. Get it from the blob pages.
Interview with Russell King